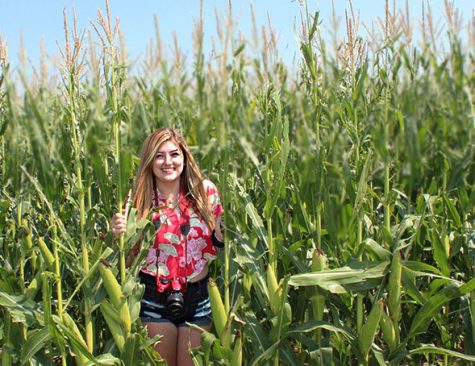 Hi! My name is Autumn Hoff. I am a senior, here at AHS. This will be my third, and final year writing for the SPUD. I am the Co-Editor-in-Chief with Safyre Yearling. This year I will be writing for "The Senior Side", as well as illustrating for the cartoons section of the paper.
I have two very lovable dogs, Neko and Muta. They are always happy to see me, which is what I look for in a dog. I also have two ignorant cats, Jiji and Yuki. Even though my own cats disregard me, I'm still the kind of person that lights up and exclaims "kitty," while driving through town and a cat shows up on the side of the road.
In my free time, I like to nap. Sometimes I binge watch Netflix or work at my grandparents floral shop, Hoffhaus. I stay up insanely late for no good reason other than sleep escaping me. I mean, we all know it's all the naps more than likely, but I like to ignore that little factoid.
This school year, I plan to improve the SPUD and continue my participation in Key Club and Art Club. I hope to get through this last year of school without too much of a struggle, which should happen if I don't nap too much, but no promises. Let's make this year the best year yet.
Autumn Hoff, Co-Editor-in-Chief
May 08, 2018

The Viewfinder: Final Edition

(Story)

Mar 20, 2018

The Viewfinder: Hoffhaus Edition

(Story)

Feb 05, 2018

The Viewfinder: Basketball Edition

(Story/Media)

Dec 19, 2017

Christmas Gifts: From Three Perspectives

(Media)

Dec 06, 2017

The Viewfinder: Wrestling Edition

(Story/Media)

Nov 10, 2017

Merry Thanksgiving?

(Media)

Oct 19, 2017
Nov 09, 2017
Mar 14, 2016

Cat Cartoons for the Alliance Bulldogs?

(Story)

Nov 09, 2016

Trump Becomes President

(Story)

Oct 15, 2016
Aug 20, 2016

The Start of School

(Story)

Sep 15, 2016

Homecoming Week 2016

(Story/Media)

Oct 05, 2017

A Latte Pumpkin Spice

(Story)

Sep 20, 2017

Making Friends with Upperclassmen

(Story)

Sep 07, 2017

Upcoming Movies: September 2017

(Story)

Aug 28, 2017

The Viewfinder: Football Edition

(Story/Media)

May 04, 2017

Upcoming Movies: May 2017

(Story)

May 02, 2017

Sophia Collett: Two Years Tumor Free

(Story)

Apr 03, 2017

Upcoming Movies: April 2017

(Story)

Mar 30, 2017
Mar 01, 2017

Upcoming Movies: March 2017

(Story)

Feb 03, 2017

Upcoming Movies: February 2017

(Story)

Feb 03, 2017

Procrastination: The New Plague

(Story)

Jan 05, 2017

Upcoming Movies: January 2017

(Story)

Dec 01, 2016

Upcoming Movies: December 2016

(Story)

Nov 03, 2016

Upcoming Movies: November 2016

(Story)

Oct 04, 2016

Upcoming Movies: October 2016

(Story)

Sep 01, 2016

Upcoming Movies: September 2016

(Story/Media)

Mar 29, 2016
Feb 17, 2016

The 58th Grammy Awards

(Story)

Jan 29, 2016

The importance of handwriting

(Story)

Dec 22, 2015

Ugly sweater contest: 2015

(Story)

Dec 22, 2015

In a world far far away…

(Story)

Dec 11, 2015
Nov 24, 2015

Cats end terrorism?

(Story)

Nov 23, 2015

Do you want to be a tree?

(Story)

Oct 29, 2015

Based on a true story?

(Story)

Oct 05, 2015

Haase talks internet safety

(Story)