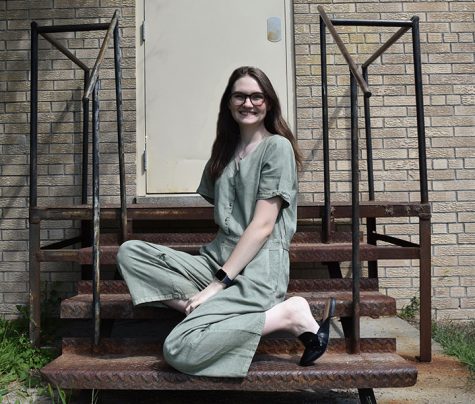 Hi! I'm Aubrie Lawrence. This is my third year writing for the SPUD. I am a Senior here at AHS, and I am the Editor-in-Chief for the SPUD. I am the oldest daughter of Heath and Shannon Lawrence and the sister of Riley Lawrence, a freshman at AHS.
I am a trumpet player in the AHS band, and a member of National Honor Society. I have also been involved in dance at the 7th Street dance studio for the past 15 years, as well as a part of a small brass ensemble for the past two years. I am also a Page, meaning I put the books away, at the Public Library in Alliance.
I tend to keep myself pretty busy, but when I have extra time I love reading the newest book, coloring, or binge watching anything on Netflix. I am a very hard worker when it comes to schoolwork.
After high school, I plan on going to the University of Nebraska-Kearney to become a journalist. I am very excited to work on the school paper and making new memories with the staff.
Aubrie Lawrence, Editor-in-Chief
May 07, 2019
Apr 30, 2019
Apr 25, 2019

A Degree is just a Degree

(Story)

Apr 08, 2019

Upcoming Games: April 2019

(Story)

Mar 12, 2019

State Basketball 2019

(Story)

Mar 06, 2019

Upcoming Games: March 2019

(Story)

Feb 28, 2019

Senior Year: The False Fantasy

(Story)

Feb 26, 2019

National Emergency: A Common Crisis?

(Story)

Feb 05, 2019

Upcoming Games: February 2018

(Story)

Jan 30, 2019

Adventures in Finding a College Roommate

(Story)

Jan 18, 2019

A Guide to the Government Shutdown

(Story)

Jan 09, 2019

Upcoming Games: January 2019

(Story)

Dec 18, 2018

My Financial Future

(Story)

Dec 04, 2018

Upcoming Games: December 2018

(Story)

Nov 30, 2018

A Holiday Season Full of Lasts

(Story)

Nov 13, 2018

State Volleyball 2018

(Story)

Nov 05, 2018

Upcoming Games: November 2018

(Story)

Oct 24, 2018

The Question of Religion

(Story)

Oct 17, 2018

Journalists Beware

(Story)

Oct 03, 2018

Upcoming Games: October 2018

(Story)

Oct 01, 2018
Sep 20, 2018

Building Excitement

(Story)

Sep 04, 2018

Upcoming Games: September 2018

(Story)

May 10, 2018

Key Club Makes Lockers Brighter

(Story)

May 02, 2018

Upcoming Games: May 2018

(Story)

May 02, 2018

The Final Curtain Call

(Story)

Apr 05, 2018

Upcoming Games: April 2018

(Story)

Mar 22, 2018

Technology in Our School

(Story)

Mar 02, 2018

Upcoming Games: March 2018

(Story)

Feb 21, 2018

National Honors Society through a Junior's Eyes

(Story)

Feb 02, 2018

Upcoming Games: February 2018

(Story)

Jan 17, 2018

Is Our Society Truly Materialistic?

(Story)

Jan 04, 2018

Upcoming Games: January 2018

(Story)

Dec 14, 2017

Band Christmas Concert 2017

(Story)

Dec 04, 2017

Upcoming Games: December 2017

(Story)

Nov 30, 2017

Every Drop Counts

(Story)

Nov 02, 2017

Upcoming Games: November 2017

(Story)

Oct 20, 2017

Old West Festival 2017

(Story)

Oct 04, 2017

Upcoming Games: October 2017

(Story)

Sep 18, 2017

Gooding Rocks Financial Literacy

(Story)

Sep 13, 2017

The Only Senior Left Standing

(Story)

Sep 06, 2017

Junior Year: The Struggle is not Real

(Story)

May 22, 2017

The New Wave of AHS Staff

(Story)

May 05, 2017

A Night to Honor Students

(Story)

Apr 27, 2017
Apr 06, 2017

The Eclipse of Alliance

(Story)

Mar 22, 2017
Mar 07, 2017

The Power of a Good Book

(Story)

Mar 01, 2017

The Leader of the Band

(Story)

Feb 16, 2017

Is Valentine's Day Still Relevant?

(Story)

Jan 31, 2017

Becoming the Real Me

(Story)

Jan 27, 2017

The Inauguration of President Trump

(Story)

Dec 08, 2016

Final One Act Results, Back From Districts

(Story)

Nov 29, 2016

Black Friday : The Hunger Games of Our Society

(Story)

Nov 09, 2016

The Decrease of Newspapers

(Story)

Oct 27, 2016

Bob Dylan's Silence

(Story)

Oct 18, 2016

Band from Three Perspectives

(Story)

Oct 03, 2016

Mr. Mangas : Special Education

(Story)

Sep 26, 2016

Mr. Michael Baker: History

(Story)

Sep 13, 2016

Mrs. Escamilla: Para

(Story)