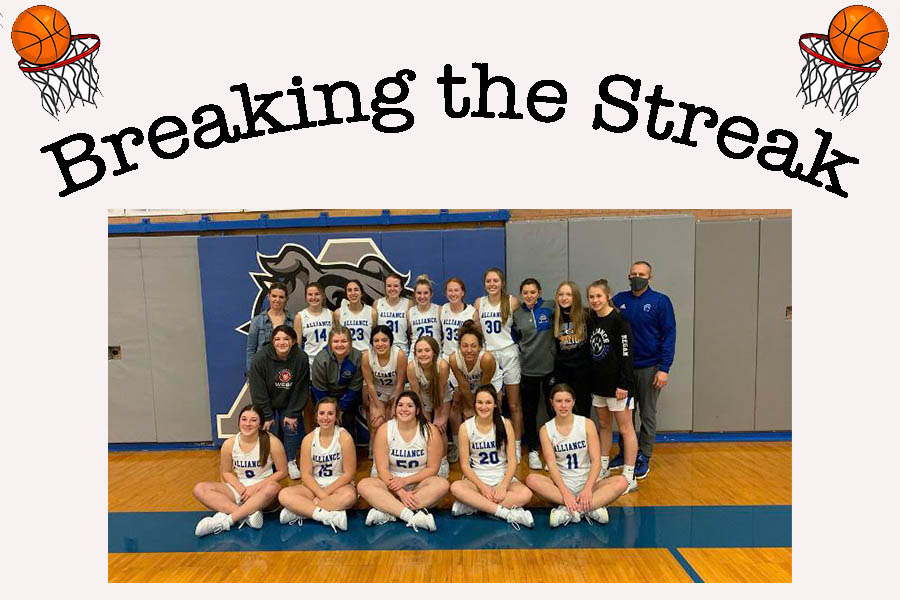 After struggling through an 0-23 season last year, some people thought the Alliance Girl's Basketball team would never win a game again. But the team proved them wrong on January 8 at home against Hay Springs. The 35 game losing streak had finally ended. The Bulldogs defeated the Hawks 49-36.
When asked about last year's season, Senior Olivia Knapp explained, "We couldn't let it determine the team we were going to be this season. Everyone expected us to fold for them, but this season we have been fighting in almost every game." Many improvements are seen on the court from the Lady Bulldogs this year each time they play.
Head Coach, Heidi Manion stated, "I think the only difference between this game and the others is the final score. The girls have played hard in all our games and have made both good plays and mistakes in them all. We were able to make enough good plays to get the win in this contest."
Junior Avah Steggall was the high scorer with 11 points, Junior Emma Wood was close behind with nine and Junior Shelbee Burke had 8. Both Sophomore Bailey Stark and Wood had one three-pointer each to help with the win. Stark scored six points that night, Junior Angie Davis and Senior Olivia Knapp both had four and numerous other players scored a basket to help the Bulldog's pull ahead.
Burke led the Bulldogs in rebounds with seven, and Steggall contributed five. Junior Amauri Browning, Knapp and Stark had three boards each. Davis, Wood, and sophomores Haley Weare and Kenna Montes were able to get two rebounds each as well.
Knapp said that during this game, the team played extremely well together. She said, "When we made a mistake we didn't put our heads down. We went on and continued playing." When asked what some of the keys were to this win, Manion stated, "We were able to have one of our better starts. We established a lead in the first quarter and I think that allowed us to play more relaxed. We limited our turnovers in this game which was the biggest key to our success. It was also one of our best defensive efforts of the season."
The Lady Bulldogs were able to keep their number of turnovers down to 14, which is the lowest it has been all season, and forced the Hawks to give up 22 turnovers. Alliance also had 18 steals and 10 assists this game.
The Lady Bulldogs did struggle in some areas during this game. Manion remarked, "We did not rebound very well or shoot free-throws very well. These are two phases of the game that we have struggled with this season and continue to focus on improving." She continued saying, "They are key components for every game that we play. They can be difference makers for a team that struggles to score."
After the win, Manion explained, "I was happy for the players. They have worked very hard this year and have made a lot of progress. It was nice for them to get a win and experience that feeling." She continued saying, "We have seen a lot of other successes this season, but nothing feels quite like getting a W."
Knapp remarked that after the game, "I felt proud of what we just did, but I was not satisfied. I know I, along with many other teammates, want another dub under our belts, but all in all, I was super proud of us." She continued saying, "My favorite part of the game was knowing what we accomplished. It may not seem big, but for us, as a team, we accomplished something big and took a huge step forward in our progress."
The Alliance Girl's basketball team has lost three hard-fought games since their win, but they will continue to fight hard until the end of the season. The girls' next game will be on January 29 against Gering at home. Best "swishes" Lady Bulldogs!