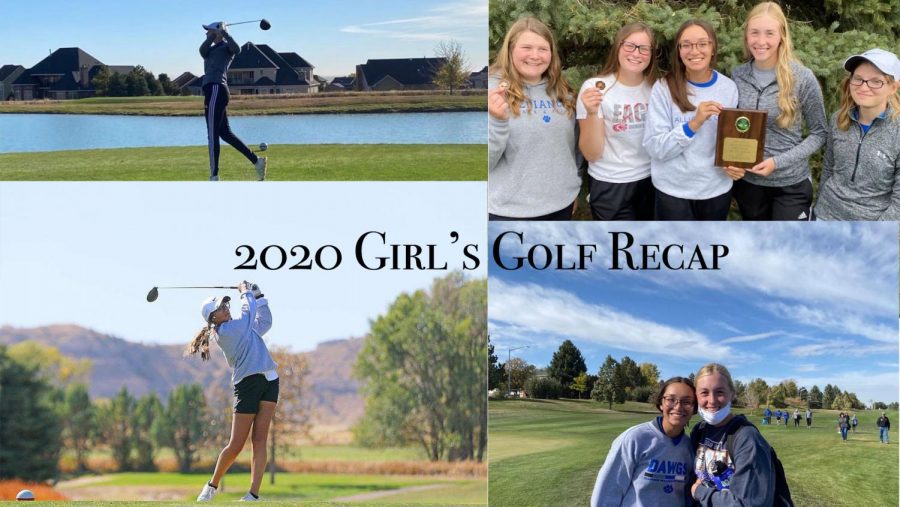 This year's girl's golf team had many monumental moments. Led by their coach Berlyn Clear, the girls made it to the state tournament this year. It has been 40 years since Alliance High School has participated at the girl's golf state tournmament. Team captains Regan Lambert and Julia Carlson both agreed that it was a great year getting to golf with the other girls, Julia Wilson, Morgan Young and Donna LeMunyan. This year has been a successful year for the team, and many great memories were made.
Both Lambert and Carlson said, "I played decent this year. I had some off days, but overall pretty good." They were the only seniors on the team this year. The hardest competition they had was Scottsbluff. The seniors described their feelings at districts, when they found out they had made it to state as extremely exciting. Lambert stated, "I was nervous, anxious and excited." Carlson agreed, but added, "At first, I did not want to practice for another week, but then I got really excited." The favorite memory from all of the girls and their coach was the moment they found out they were going to state. 
Their state experience is one all of them will remember. Lambert said, "It was definitely fun, but very nerve-racking." The weather did not comply for the first day, and many were upset because of that. Carlson added, "The first day was rough, the wind was awful. The second day was a lot better, I enjoyed golfing with all of the girls I was paired with." This year, the girls met many goals personally and as a team. In our interview, Lambert remarked, "We won the Mitchell tournament, placed in several others and made it to state." Carlson was able to meet all of her goals this year. She said, "My only goal this year was to have fun as it was my last year. I had a lot of fun and couldn't ask for better teammates." Overall, the girls really enjoyed their year.
The year of 2020 was met with a lot of success from the Alliance High School girl's golf team. The SPUD congratulates you on your amazing season, and we can't wait to see how you girls do next year. Go lady bulldogs!