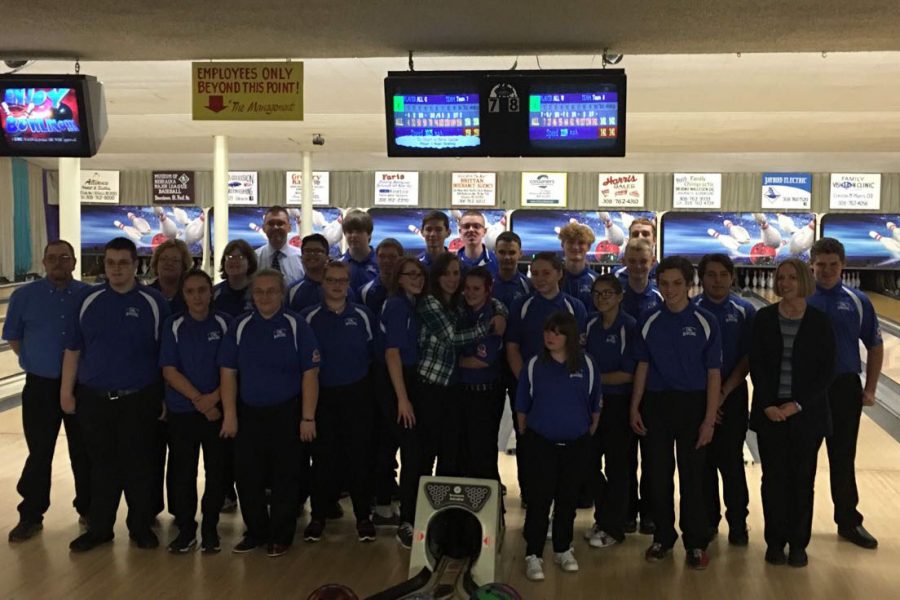 Fall sports have come to a close, and with that, comes winter sports. One of these winter sports is unified bowling. The AHS unified bowling team has three district titles and one state title from 2017. The team consists of 27 members. Of those 27 members, there is only one senior: Brittney Morgan. 
In an interview with two year bowling team member, Brittney Morgan, she was asked what her goals are for the team this season. In response, Brittney said, "My goals for the team this season are to create positive attitudes, strong friendships, and to bowl the best we can while having fun." When asked if she had any personal goals, she replied "My personal goals for this season are to not only have fun, but to get better because there is always room for improvement."
Also interviewed was head coach Laura Mangas. This year is Mangas's fourth year as head coach for unified bowling. "The goals include working as a team, representing Alliance well and improving our bowling form. We are a very young team this year and finishing each match strong is one of our final goals," replied Mangas. In addition to her goals for the team, I also asked if she had any goals as a coach. She replied, "Every year I have a new goal for myself and my coaches. This year, I have encouraged my coaches to coach with heart and to never give up. When talking to athletes/partners, patrons or other coaches, always speak [with] patience. We never know what we are heading into and we're the only sport that plays without being able to see our "field." This can be frustrating for the coaches as well as [for] the players. Therefore, being patient with yourself as a coach you'll be able to step back and see the bigger picture and be able to lead with confidence." 
Compared to last year, Mangas believes that, "We are a young team and we have some very talented young men and women, but we are inexperienced.  They have much to learn when it comes to endurance and listening, but they always play with heart and great sportsmanship!"
The unified bowling team started off their season November 2 with a triangular in Gordon. They received third, but that only leaves room to grow. The team also traveled to Scottsbluff last Saturday, November 9. District bowling is the first week of December, and state follows the next week. We all hope that another trip to state for our bowlers is in the near future. Good luck unified bowling!