Roger Nason: Passing The Baton
Hang on for a minute...we're trying to find some more stories you might like.
This season the track team has had their own special guest helping the team out, Roger Nason. Nason currently holds the 400 meter dash record at Alliance High School with a time of 49.5 seconds. He decided it was time to share his words of advice with the AHS tracksters.
"I ran track because I thought it was something I could be good at in high school. I remember looking at the school record for the 400 and telling myself I was gonna beat it, and I ended up doing that in 1976. I also ran the 4×4. I made state 3 years for the while I was in high school. I ended up finishing 3rd in the 400." Roger said, when asked about his high-school track career. Roger also says, "You have to be crazy to make it in this tough sport."
In high school, Roger had a very supportive and motivating coach, Coach Kaiser. "Coach Kaiser was a great guy and coach. He treated the worst runner like the best runner," Roger said. "Having a great coach made me feel good, so I thought if I helped out, I could do the same for these kids." So, he decided to start helping out the track team. He's helped by sharing his passion.
"Helping out the track team has been so much fun and I'm glad I decided too. I'm old and don't really have that much to do anymore. These kids are like my brothers and sisters so if I get the chance to help them out, I will. I always tell these kids that if you wanna be a good athlete, you have to find out what kind of person you are. You have to work hard. I feel like the AHS track team has a lot of potential. It's wonderful that I get to work with these kids. If they continue to push themselves as much as they do, they are gonna be very successful. They are also great kids and that's all I really care about." Roger said.
Many of the AHS tracksters believe that it's been very beneficial to have him around. He's constantly pushing them to be the very best athlete and person they can be.

About the Contributors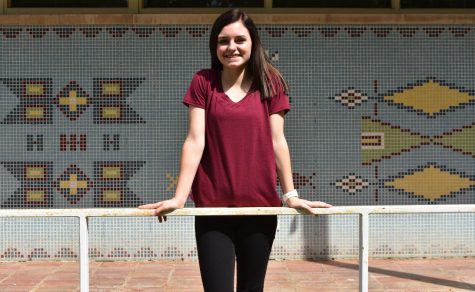 Nikki Haller, Staff Writer
Hi everybody! I'm Nikki Haller. I am a sophomore at AHS and this is my first year writing for the SPUD. I am the 15 year old daughter of Tonya Haller and...