History of St. Patrick's Day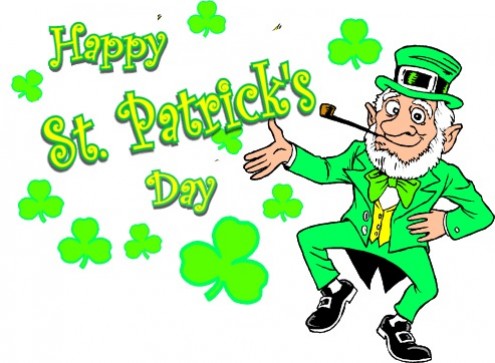 Hang on for a minute...we're trying to find some more stories you might like.
When you think of St. Patrick's Day, many of us think of Emerald greens, leprechaun's with red hair, shamrocks, rainbows, the pot of gold, and of course the awful pinching, but the truth is there is quite a story behind the holiday that many of us might not even know. But before I tell you the story, you better throw on some green and be ready to jump over the rainbow to find the origin of it all.
St. Patrick's Day was actually considered the patron state of Ireland. He was born in Banna Venta, Berniae, a town in Roman Britain. Patrick was not Irish and his real name was Maewyn Succat, but he preferred Patricus. Soon, people started calling him Patrick. The nickname stuck  because of the nice ring it had to it. Patrick's family were also firm believers in Christianity, but Patrick didn't so much believe in the religion until he was captured by Irish pirates at the age sixteen. While being held captive, he went further into the religion and started planning escape ideas. His plan was to learn the Irish's language and culture. He hoped by doing this it would make his escape plans easier, but unfortunately that was not the case; as he was captured again. This time it was by the French. He learned all about monasticism, until he was finally released and sent home to finally be in peace with his family.
Patrick began living his life that he had once knew, but this time he was more interested in studying his religion. He claimed he had a vision and said he wanted to bring Christianity to the Irish, so he went back to Ireland to spread his faith. At first his ideologies were not welcomed, but after awhile he slowly started to gain followers.
St. Patrick's Day is celebrated every year on March 17 as an anniversary for the day of Patrick's death. The tradition was introduced to American colonies by Irish immigrants. The three leaf clovers became the symbol for Irish heritage and culture. As more Irish immigrants came to America, the more the celebrations grew in popularity. This holiday is now celebrated all over the world.
Now lastly, if you're only wearing green to protect yourself from those greedy pinching fingers, then I can tell you that there's more to it than just pinching. The green originated from the Irish Rebellion when the soldiers wore the color to fight in. Since then, the Irish have decided to use the color on the Feast Day to show solidarity.