Game 7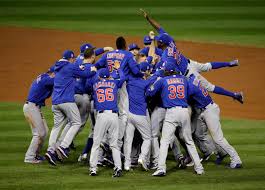 Hang on for a minute...we're trying to find some more stories you might like.
The World Series, an annual championship series of Major League Baseball, came all the way down to tie breaker on Game 7. The World Series game was played between the Chicago Cubs and the Cleveland Indians, being a highly anticipated game that many baseball fans looked forward to watching. The game ended with a score of 8-7 leaving the Cubs with a huge win. It may have been the most watched baseball game in the 21st century. According to ESPN, viewership peaked with 44,511,000 viewers. The game had everything you could want in an elimination game ranging from dramatic home runs, comebacks, close calls, and even a rainstorm that delayed the game.
It has taken the Chicago Cubs 71 years to make it back to the World Series. Their first Game 7 was played in 1945 against the Detroit Tigers with a loss of 9-3. The Cubs have won their third World Series and many people believed it it was the sweetest, hardest earned championship in history. When the final out was called, the Cubs screamed and celebrated on the diamond and thousands of fans cheered from the stands. For the Cubs to win, they had to beat off the most dominant pitchers of the season, Corey Kluber and Andrew Miller. The team never believed in curses, jinx's or spells, but they did believe in omens. When the rain fell Wednesday night during the game, the team thought it was the most beautiful sight they've ever seen and they believed that it was the reason for ending one of the longest droughts in sports history.
As for the Indians, they have been to the World Series before in modern times. They forced a Game 7 in 1997, and were two outs away from winning the championship, until they blew their lead and lost to the Florida Marlin's. They lost six games in the 1995 World Series to the Atlanta Braves, and in 1954 they were swept by New York Giants. The Indians had many great plays that could have brought them back up to win, but unfortunately they did not succeed. The players will remain to keep their head high and train hard for the next season.